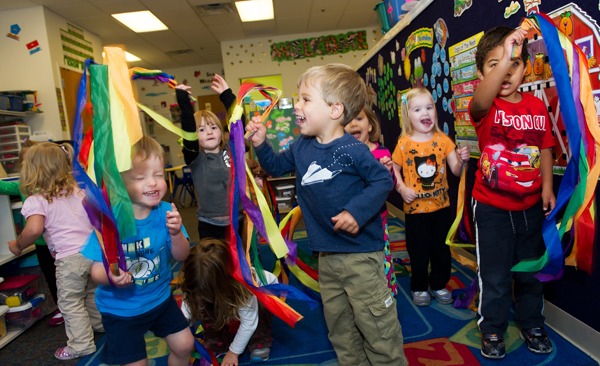 Infant & Toddler Care, Kindergarten and Preschool in Gahanna, Ohio
For over 20 years Jolly Tots has proven to have a successful curriculum as graduates have shown academic achievement throughout their educational career.
We value the strong leadership, dedication and encouragement from our teachers in this accomplishment. It is also the trust and support from the parents that bring Jolly Tots full circle in being able to provide such a wonderful learning environment for their children.

We are located centrally between Gahanna and New Albany, Ohio and offer day care for infants, toddlers, preschool and kindergarten. We also have a nurse on site.

Enjoy Your Visit!
Just some of the highlights
of our center include:
Parents Committee
In recognition of the need to involve parents with Jolly Tots Too, we encourage parent participation in their child's development. Through the parent committee, they can help with suggestions to make Jolly Tots the child care center of choice. It is because of this committee that parents, staff, and children now enjoy social events together, parents feel more informed through the communication board and new ideas can be easily heard. In only a short time, we have already shown many successes with the parents committee. We encourage everyone to be a part of it, as no part is too small. Since starting the committee, we've planned a picnic, a trip to Circle S Farms, a parents' night out, a carnival, this website, and an upcoming bowling night.

Language/ Multicultural Program
These multicultural components are designed to expose the children to a variety of cultural experiences, traditions, and foreign languages. Children receive instruction in Spanish and Sign Language each week. These lessons are directly related to the topics studied through the weekly curriculum and increase the child's awareness of the people whose culture they are studying. Every year we also have a multicultural fair where children visit different countries throughout our center.

Music Appreciation
We love to incorporate music throughout our program at Jolly Tots, Too! Music can help us teach new concepts, encourage verbal language skill development as well as literacy. We do this by singing songs and dancing which promotes large motor development. Once a month we have a special music teacher that meets with each classroom to introduce new instruments and songs.

Jolly Tots Associates
Jolly Tots teacher/ child care providers are selected based on their education, dependability, trustworthiness, child care experience, and ability to nurture young children. Personal and professional references and personal background checks are carefully screened. Jolly Tots maintains consistent child and teacher/ child care provider interaction to promote continuity and enhance each child's sense of development and well-being. Jolly Tots also takes pride in the longevity of teacher/ child care providers; as many of them have been with Jolly Tots for over 10 years, showing commitment and consistency throughout the center.