Jolly Tots Too!
Average rating:
13 reviews
Jun 27, 2016
Our little one is in great hands!
We love everyone at JTT! Leaving our little one during the day is tough but knowing she is in great hands makes it so much better!
Jun 27, 2016
Our kids loved it!
Highly recommend this place to any parents. Our kids love it here & so do we. We love parents night out...Thank you Jolly Tots & all the hard working staff. You guys are the absolute best..!
Patty W - New Albany Ohio
May 18, 2016
My grand daughter loves Jolly Tots!
My granddaughter goes to Jolly Tots and she has learned so much. She loves her teacher's and all her friends.
Mar 15, 2016
Center was amazing and so was the staff!
We love Jolly Tots Too! From the center itself to the amazing staff. If you are looking for excellent child care, loving teachers and staff then look no further. Jolly Tots Too is the BEST!
Feb 21, 2016
Our son excels at this day care!
Our son excels here, and we love that there is an onsite nurse!
Tashira B - New Albany Ohio
Nov 17, 2015
The teachers have become part of our family!
The JTT teachers have become part of our family! We instill a lot of trust in these teachers and they continue to amaze us!! They are hard working and clearly love what they do. Our boys LOVE JTT which makes it so much easier to focus at work every day knowing they're in good hands. The on-site nurse is a huge bonus!!
Nov 17, 2015
Gahanna daycare helped develop my kids into better people
Both my kids went to daycare at jolly tots. They did not just take care of our kids, they helped develop them into the amazing kids they are today. They were well prepared for entering school. They have many teachers that they still talk about to this day.
Dec 3, 2014
Staff at this day care is amazing!
Both of our lil' kiddos goes here from day one since they were babies. All the staff here is amazing! I was debating if we should put my son in public kindergarten or here...We decided to have him stay....by far it was the best decision we've ever made. Ms. Amy who's been teaching over 20yrs here is incredible teacher. I see how she teaches them. Bottom line I "HIGHLY RECOMMEND"to any parents that wants the best for their kids to come here. Talk to Kelly the owner she is very organized & informative. The only thing I wish is that if Jolly Tots would go all the way up to High School I would be willing to pay private for both of my kiddos but unfortunately they only go up to kindergarten.....Best of luck where ever you go.!
Roy Holcombe - Gahanna Ohio
Jun 15, 2014
Best child care center anywhere!
Best child care center anywhere! Our son has been here since he was 3 months old and now he's halfway through his Kindergarten year. Jolly Tots Too is definitely, by far the very best child care center anywhere in the world! We have had the best experience every step of the way and you will too.
Nov 4, 2013
We love JTT! It was an excruciating day when we had to leave our sweet 3 month old girl when I went back to work. JTT did a great job making me feel good she was well taken care of and very loved!

She continues to excel now turning 3, and JTT far exceeds my expectations for her lesson plan. Very involved teachers, great stimulation for the kids and great partnership with parents, makes this the very best in the area. A huge plus to have Nurse Sue on staff with owner, Kelly. Most of the teachers have been there for a very long time too.

Highly recommend!
Jul 5, 2012
Amazing Daycare in Gahanna Ohio!
There may be nothing tougher in one's entire existence than making the decision to leave a precious baby or child in the care of others. Most of us would much rather take care of our little ones ourselves, keeping them safe and secure and happy in our presence.

When that's not possible, we thank heaven for a place like Jolly Tots Too. Kelly runs a tight ship and this place is amazing! Our daughter has been going here since 12 weeks of age and absolutely loves it. The power has been out this week and despite fun times with Mom and Dad, she's been hanging her head sadly, asking "I go school today? I go school today?" and talking about how much she misses her friends.

As the other reviewers have stated, she's happy every day when I pick her up. She runs to me smiling at pick-up time and when I ask if she had a good day, she says "yes! I so happy!" She has also learned a TON here - stuff I know we never taught her. She's developmentally off the charts and I know the teachers at JTT have helped with that.

Thanks, Kelly and staff at Jolly Tots Too for giving us parents a wonderful, fun, educational "home away from home" for our kids while we have to work.
Jul 22, 2010
It's tough to pick a day care but coming here was a pretty easy decision. The place is stimulating for our two kids, is safe, and we have no concerns with coming here.

The older kids have some great educational opportunities, including Spanish and sign language, among others.

The staff, including teachers, are great. They care about the kids - they kids all are in great moods going home after a good day. We consider ourselves lucky to have found a good place for our kids.
Nov 29, 2008
The owner and managers are very accommodating
It's a rare occasion when you discover a business whose name actually fulfills its mission in real life. We've discovered this refreshing truth over the last few months at Jolly Tots Too.

Everyday when we pick up our baby, he appears to be a real "Jolly Tot". That is the result we expect from a great childcare facility.

It's definitely not easy choosing a daycare for the most precious gift in your life. There's a lot of homework involved from all the research to the in-person interviews to the referrals. With so many to choose from, we only hoped that one would stand out from the crowd to make it easy for us to decide.

That one standout was Jolly Tots Too. We really like the staff. The owner and managers are very accommodating. Our caregivers seem to really enjoy what they do and they especially enjoy our baby. That always helps!

The facility is conveniently located right off of North Hamilton Road and Rt 161. It is only a few years old. Even more importantly, it's very clean and orderly from top to bottom. This is something lacking in a lot of the day cares that we visited. Finally, it's very safe and secure. The staff really knows what they're doing and the building is very sound.

If you want your little one to be "jolly" while away from you, then Jolly Tots Too is the place for you!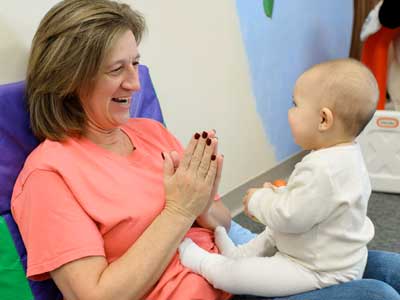 Infant daycare program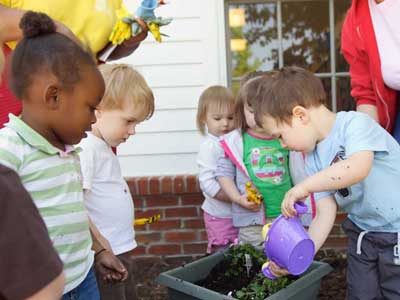 Outdoor child care activities in the spring and summer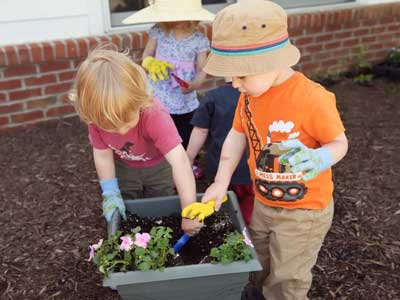 Children learn more at our child care center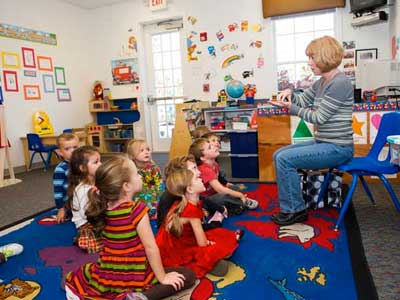 Our classrooms have the lowest teacher to student ratio.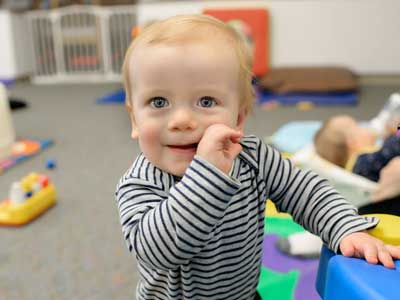 Toddler daycare center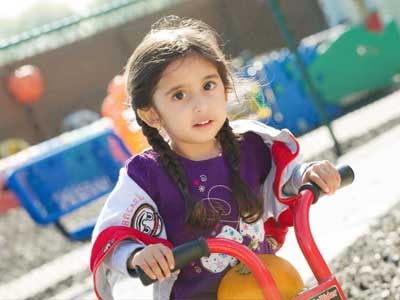 Preschool learning center
Daycare Center Serving Families From: