The Pond – Preschoolers 3 Years to 4 Years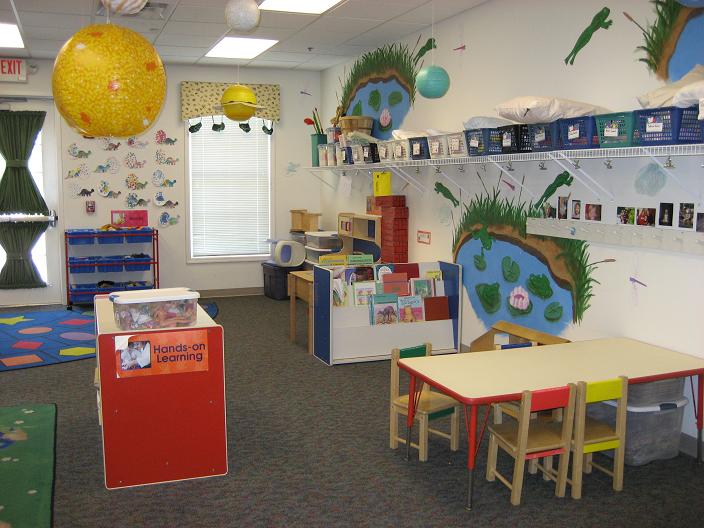 Our Goals for Preschoolers in the Pond
As your child progresses and begins attaining the skill of independence, we also provide, introduce and help them explore other developmental areas. These include gross motor skills, intellectual, social, emotional, language, listening, reading readiness, safety, art, music, math, science, health, and special languages. Spanish is introduced in this class. As we help your child in these areas, we also encourage parents to help him/her at home.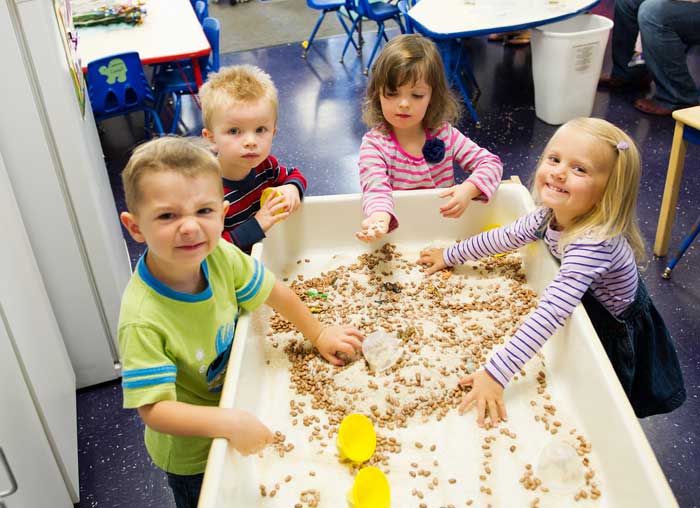 The Pond Atmosphere
Welcome to 3s and 4s. We are excited to have the opportunity to make this a fun and educational time for your child. During this stage of development, we will help your child expand his/ her curiosity, become more self-sufficient and independent. Through a playful environment, your child will progress academically, emotionally and socially.
Our Approach to Teaching and Caring for Preschoolers
We understand that our children are still very young and just recently accomplished the potty training stage. Also, that each child develops differently from the others. Our goal is to help each child become more independent by encouraging our friends to complete tasks for themselves such as dressing and undressing, bathroom hygiene, table manners, recognizing their own names to find their own assigned chairs and other belongings. When they do accomplish the self-help skills, we continue to follow them with encouragement and big praise.
Preschool in Gahanna, Ohio
Average rating:
8 reviews
Jun 27, 2016
Our little one is in great hands!
We love everyone at JTT! Leaving our little one during the day is tough but knowing she is in great hands makes it so much better!
Jun 27, 2016
Our kids loved it!
Highly recommend this place to any parents. Our kids love it here & so do we. We love parents night out...Thank you Jolly Tots & all the hard working staff. You guys are the absolute best..!
May 18, 2016
My grand daughter loves Jolly Tots!
My granddaughter goes to Jolly Tots and she has learned so much. She loves her teacher's and all her friends.
Mar 15, 2016
Center was amazing and so was the staff!
We love Jolly Tots Too! From the center itself to the amazing staff. If you are looking for excellent child care, loving teachers and staff then look no further. Jolly Tots Too is the BEST!
Feb 21, 2016
Our son excels at this day care
Our son excels here, and we love that there is an onsite nurse!
Nov 17, 2015
Gahanna daycare helped develop my kids into better people
Both my kids went to daycare at Jolly Tots. They did not just take care of our kids, they helped develop them into the amazing kids they are today. They were well prepared for entering school. They have many teachers that they still talk about to this day.
Nov 17, 2015
The teachers have become part of our family!
The JTT teachers have become part of our family! We instill a lot of trust in these teachers and they continue to amaze us!! They are hard working and clearly love what they do. Our boys LOVE JTT which makes it so much easier to focus at work every day knowing they're in good hands. The on-site nurse is a huge bonus!!
Dec 4, 2014
Highly recommended with incredible teacher!
Both of our lil' kiddos goes here from day one since they were babies. All the staff here is amazing! I was debating if we should put my son in public kindergarten or here...We decided to have him stay....by far it was the best decision we've ever made. Ms. Amy who's been teaching over 20yrs here is incredible teacher. I see how she teaches them. Bottom line I "HIGHLY RECOMMEND"to any parents that wants the best for their kids to come here. Talk to Kelly the owner she is very organized & informative. The only thing I wish is that if Jolly Tots would go all the way up to High School I would be willing to pay private for both of my kiddos but unfortunately they only go up to kindergarten.....Best of luck where ever you go.!