The Outback – Infants 8 Months – 14 Months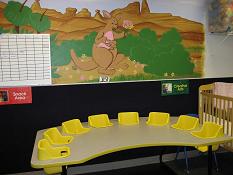 Our Goal in The Outback for Infants
During this time the younger infant begins to become an individual and start to achieve some major milestones. With this in mind, some goals that are reached may include, but are not limited to, walking alone, drinking from a cup, going to one nap during the daytime and eating more solid foods opposed to strained baby foods. One of our primary goals is to constantly monitor these developments as they grow and are considered when moving to the next level.
The Outback Atmosphere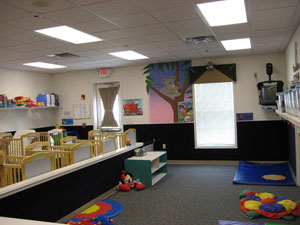 The class works together to promote team concepts and continuity of care. The infant care providers who work with this age group are fully trained and knowledgeable regarding the growth and development of infants and being able to perform all child care skills in a safe and proficient manner.
Our Approach to Child Care for Older Infants
On a daily basis a curriculum based stimulation program was designed and is followed thoroughly to meet the developmental needs of the infant. Our introduction to art includes the 5 senses which are considered while lesson plans are being implemented. We also focus on fitness in the classroom through a 30 minute weekly exercise routine which has been studied to promote physical awareness. Our ultimate goal is to allow for your child to grow and develop at his/her own pace. We transition infants according to readiness and mobility which will provide guidance for the next level of developmental opportunities.