Our Philosophy
The center's program combines early life-style and health and wellness education programs. A comprehensive, educational, learning-center curriculum is provided and directed toward the individual needs of each child in order to promote the optimal level of development. The center is dedicated to providing each child with the best possible foundation for successfully accomplishing the growth and developmental milestones.
Our Philosophy Extends into Many Areas Including: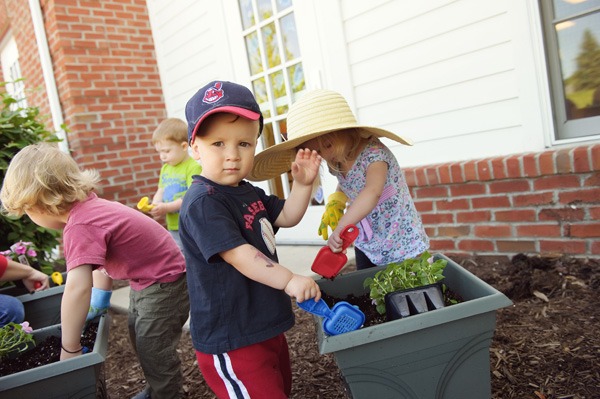 Extended Family
Jolly Tots, Too! is one of the few child-care centers in Columbus established and supervised by healthcare professionals. The center administrator and child care providers strongly support the traditional family values of protecting and promoting the child's health and well-being. As child-parent advocates, we promote parent-teacher daily communication and ongoing early childhood educational opportunities. Our goal is to promote cohesiveness between parent and child care center, thus promoting a harmonious parent/teacher relationship.
Experience, Education and Nurture
This may be the most difficult decision you have to make, wondering how to trust someone with your precious child, and we want to assure you that you would be making a great choice with JTT. Many things make Jolly Tots, Too! the child care center of choice, setting us apart with our well established program and amazing staff. For 20 years Jolly Tots has had a proven curriculum that educates in a fun, nurturing, safe environment.
Preparation for Grade School
Our graduates are extremely prepared for their grade school years and beyond by giving them the fundamentals that build a strong foundation. Our children are confident, social, loving young people that thrive from an enriched environment which encourages growth in all developmental areas.
Respect For Others
Our etiquette program teaches children to be respectful and treat their friends with good manners. They learn how to have appropriate manners in different situations and to be considerate of all people.
Private Is Better
As a private center we are able to have the owner Kelly Brisker on site daily, giving personal attention to all the details that make up the center. We also set the curriculum, ratios, tuition fees, and policies rather than a corporation that may be based in another state setting these things for us. We do not have the yearly fees that many centers have. Our license inspections have had wonderful results and we pride ourselves in following state standards and regulations at all times.
Going Green
Not only do we want to take care of the children at our center now, but also in the future by helping to protect their environment. We have changed to green cleansers, we now recycle throughout the center and we reuse items that can work for art projects or scrap paper. We have also cut back on paper memos by putting more info on our parent website and have switched to washable plates and cups so that we are not creating so much trash. We take pride in knowing that we are doing what we can to help the environment and teaching our children about these important practices.
Our Daycare Staff Provides Exceptional Care
As a whole, the longevity of the Jolly Tots Too staff is incomparable. Our office manager has been here from the start of Jolly Tots (20 years ago) and we have many teachers that have been with us for 10 years or more. Our parents feel security in having someone always on the front desk and leaving their children in a safe building.
Our Curriculum Caters to Each Child Individually
We have a preschool curriculum throughout the entire center, and essentially do not wait until a certain age to introduce concepts. We believe in exposing children to many ideas, experiences, education, art, and relationships so that they may understand concepts when they are ready, rather than waiting until later ages to introduce them. Everyone teaches objectives about the same weekly themes or special days of the month, and as the child grows things become more detailed and stimulating along the way. We are sure to focus on all of the developmental areas and inspire growth as each child moves through infancy, toddler, preschool, PreK and Kindergarten. We schedule visitors throughout the year to create another level of education, acting as field trips within the center.
Parent and Family Involvement
And last, lets talk about the parent involvement. We encourage parents to come in and talk to our friends about their jobs, vacations, experiences, etc. We also like it when parents come in and read a book or help out with a party. Parents will be invited to attend parent/ teacher conferences twice a year with written evaluations on your child. Of course, your child is evaluated throughout the year and you are welcome to talk to teachers about your child's progress anytime. However, this is a special time to ensure that the growth and development of everyone is on the right course. We recently started a parent committee. This has been a positive addition to Jolly Tots and has helped to bridge the gap between the staff and parents. We feel it is important to build relationships between the parents, staff and administration. This group has helped to coordinate social outings, such as a potluck at the park and Circle S Farms. They have also helped in developing and volunteering with our first annual carnival. Jolly Tots had its first "Parent Night Out" which was fun for the kids and a break for the parents during the holiday season. There are many ideas and goals to come in the future of this group, as it is a very exciting time for the parent committee. If you are interested in joining, or in just learning what we are up to, check out the new parent information board.