Preschool
Welcome to Jolly Tots Too! Gahanna, Ohio preschool program. The preschooler is embarking on the age of discovery, inventiveness, curiosity, and development of behavior patterns. Click on the classrooms below to learn more about our preschool program.
Give Your Child a Strong Foundation with Our Preschool Program in Gahanna, Ohio!
Looking for a safe, nurturing, and fun-filled environment for your little ones to learn and grow? Look no further than Jolly Tots Too in Gahanna, Ohio!
At Jolly Tots Too, we understand that preschool is a critical time in your child's development. That's why we've created a comprehensive and engaging program that's designed to help your child thrive.
Our preschool program is tailored to meet the unique needs of each child. We offer a wide range of activities that are designed to foster a love for learning and promote social, emotional, and cognitive development.
Our experienced and dedicated teachers are passionate about education and are committed to providing a safe and supportive environment for your child. We believe that every child deserves the best possible start in life, and we work closely with each child to help them reach their full potential.
When you enroll your child in our preschool program, you can expect:
A comprehensive curriculum that covers all areas of learning
Experienced and dedicated teachers who are passionate about education
A safe and nurturing environment that promotes learning and growth
Fun and engaging activities that encourage creativity and exploration
Regular communication and updates on your child's progress
At Jolly Tots Too, we believe that preschool is an important time for your child's development, and we're committed to providing high-quality and affordable preschool programs to families in Gahanna, Ohio.
Don't let your child miss out on this incredible opportunity to learn and grow. Enroll them in our preschool program today and give them the gift of a bright and successful future. Contact us today to schedule a tour and learn more about our programs.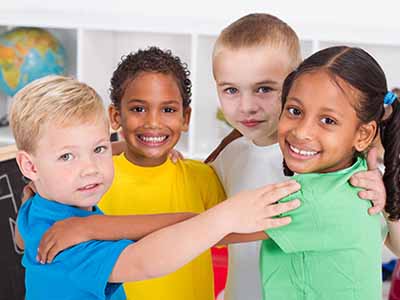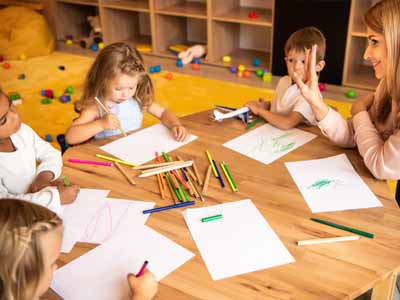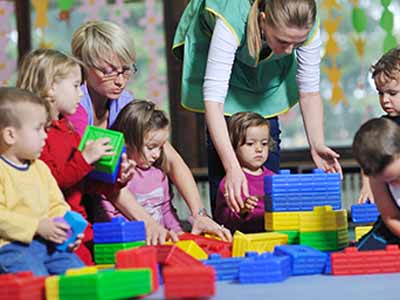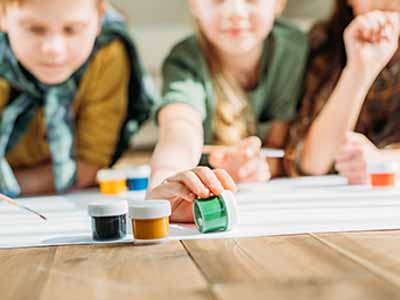 Enroll Your Child in Our Gahanna, Ohio Preschool!
Early education experience for your children!
Preschool is usually the first step The preschooler is embarking on the age of discovery, inventiveness, curiosity, and development of behavior patterns. At this time, children are rapidly developing skills such as exploration of language and reason, and comprehension of symbols. Gentle guidance, structure, and encouragement assist them in accomplishing these tasks.
What is the Difference Between Daycare and Preschool?
Jolly Tots Too is both a Daycare Center and a Preschool. Daycare is generally an option for working parents who need their children to be taken care of during the day. Jolly Tots Too accepts babies as well as toddlers and offer full-time, full-year programs. As a Preschool, we offer early-childhood educational classes for three and four year olds. As a Daycare center and preschool, we have experienced and well trained teachers. Therefore, we offer stimulating activities allow children to learn and grow.
What is the purpose of Preschool?
Preschool programs provide early childhood education and care for children. Our preschool teachers are trained in order to help children develop a range of skills that make them ready to learn when they start school. "Children need to develop a healthy and strong brain architecture. The experiences kids have in the early years have profound effects on their futures." – Todd Grindal, education expert at the Harvard Graduate School of Education. Therefore, the purpose of preschool is to provide children with:
Social skills: allowing children to empathize and interact successfully with other children, as well as skills to help them relate easily to adults.
Language skills: children are given the chance to learn adequate language skills in order to benefit from experiences facilitating their cognitive, educational and social development.
Executive function skills: we teach children how to hold and manipulate information in the brain, planning, problem-solving, and creativity.
Emotional self-regulation skills: children can learn to adapt to behaviors depending on the situation, therefore controlling impulses and to shift attention.
Self-regulation in learning skills: the ability to postpone immediate satisfaction to attain long-term goals, sustain attention, be persistent, and remain concentrated.
Gahanna, Ohio Preschool Programs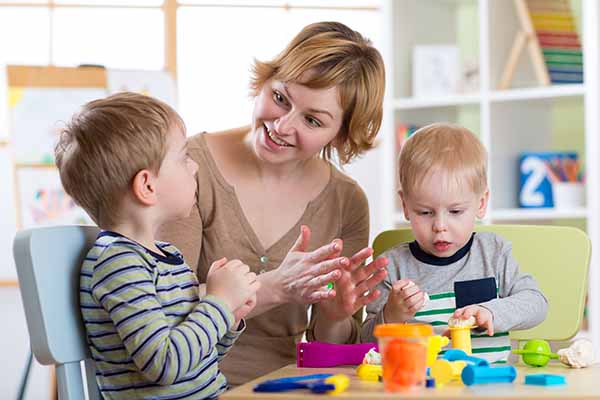 The Pond – Preschoolers 3 Years to 4 Years
Gahanna, Ohio Preschool Care - The Pond
Our Goals for Preschoolers in the Pond. As your child progresses and begins attaining the skill of independence, we also provide, introduce and help them explore other developmental areas. These include gross motor skills, intellectual, social, emotional, language, listening, reading readiness, safety, art, music, math, science, health, and special languages. Spanish is introduced in this class. As we help your child in these areas, we also encourage parents to help him/her at home.
Gahanna, Ohio Preschool: The Pond Atmosphere
Welcome to 3s and 4s. We are excited to have the opportunity to make this a fun and educational time for your child. During this stage of development, we will help your child expand his/ her curiosity, become more self-sufficient and independent. Through a playful environment, your child will progress academically, emotionally and socially.
Our Approach to Teaching and Caring for Preschoolers
We understand that our children are still very young and just recently accomplished the potty training stage. Also, that each child develops differently from the others. Our goal is to help each child become more independent by encouraging our friends to complete tasks for themselves such as dressing and undressing, bathroom hygiene, table manners, recognizing their own names to find their own assigned chairs and other belongings. When they do accomplish the self-help skills, we continue to follow them with encouragement and big praise.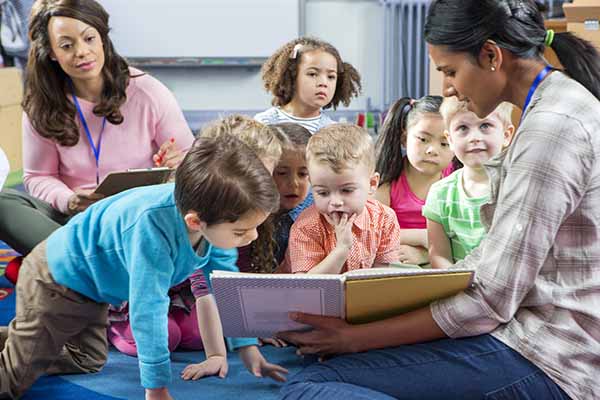 The Wilderness - Preschoolers 3.5 Years to 4.5 Years
Goals for Our Preschoolers in the Wilderness
The main goal of the classroom is to prepare children for Pre-K and Kindergarten.
What is our Environment?
Our Gahanna, Ohio preschool's classroom environment includes many learning centers that are tailored to the curriculum topics including but not limited to; math, science, music, language arts, multicultural, writing, and many other educational opportunities. The classroom follows a weekly lesson plan with a designated theme and has a weekly letter of the week which includes writing the letter, practicing its sound, identifying words that begin with the letter, and bringing an item from home on share day (Fridays) that represent that letter.
Our Approach to Caring for and Educating Older Preschoolers
The teachers in 3s and 4s believe that learning should be fun. Children are engaged in many hands on active learning experiences including sensory tables, science experiments and art projects. Kindergarten preparation is important in this room and children begin to follow a more Kindergarten-like schedule. Children have a nap time that is approximately 1.5 hours long. 3s and 4s encourages social maturity and positive social skills by encouraging many group activities such as centers and play time. In 3s and 4s we strive to prepare your child for Kindergarten and help prepare your child to succeed academically as well as socially. We provide a nurturing and safe place for your child to learn, play and grow.
Gahanna, Ohio Preschool Parent Reviews
Preschool in Gahanna, Ohio
Average rating:
12 reviews
Jan 15, 2019
The best preschool in Gahanna Ohio!
We love everyone at JTT! Leaving our little one during the day is tough but knowing she is in great hands makes it so much better!
Jan 15, 2019
Kids still talking about their preschool experience today!
Both my kids went to daycare at jolly tots. They did not just take care of our kids, they helped develop them into the amazing kids they are today. They were well prepared for entering school. They have many teachers that they still talk about to this day.
Sep 21, 2018
Jolly Tots Too is one of the best Gahanna, Ohio daycares!
The JTT teachers have become part of our family! We instill a lot of trust in these teachers and they continue to amaze us!! They are hard working and clearly love what they do. Our boys LOVE JTT which makes it so much easier to focus at work every day knowing they're in good hands. The on-site nurse is a huge bonus!!
Jul 30, 2018
Truly amazing preschool staff!
We love Jolly Tots Too! From the center itself to the amazing staff. If you are looking for excellent child care, loving teachers and staff then look no further. Jolly Tots Too is the BEST!
May 2, 2018
Absolutely amazing Gahanna, Ohio preschool!
Highly recommend this place to any parents. Our kids love it here & so do we. We love parents night out...Thank you Jolly Tots & all the hard working staff. You guys are the absolute best..!
Mar 18, 2018
The staff was absolutely amazing!
Both of our lil' kiddos goes here from day one since they were babies. All the staff here is amazing! I was debating if we should put my son in public kindergarten or here...We decided to have him stay....by far it was the best decision we've ever made. Ms. Amy who's been teaching over 20yrs here is incredible teacher. I see how she teaches them. Bottom line I "HIGHLY RECOMMEND"to any parents that wants the best for their kids to come here. Talk to Kelly the owner she is very organized & informative. The only thing I wish is that if Jolly Tots would go all the way up to High School I would be willing to pay private for both of my kiddos but unfortunately they only go up to kindergarten.....Best of luck where ever you go.!
May 18, 2016
My grand daughter loves Jolly Tots!
My granddaughter goes to Jolly Tots and she has learned so much. She loves her teacher's and all her friends.
Feb 21, 2016
Our son excels at this day care
Our son excels here, and we love that there is an onsite nurse!
Nov 4, 2013
Highly recommended child care center
We love JTT! It was an excruciating day when we had to leave our sweet 3-month-old girl when I went back to work. JTT did a great job making me feel good she was well taken care of and very loved! She continues to excel now turning 3, and JTT far exceeds my expectations for her lesson plan. Very involved teachers, great stimulation for the kids and great partnership with parents, makes this the very best in the area. A huge plus to have Nurse Sue on staff with owner, Kelly. Most of the teachers have been there for a very long time too. Highly recommend!
Jul 5, 2012
Amazing Daycare in Gahanna Ohio!
There may be nothing tougher in one's entire existence than making the decision to leave a precious baby or child in the care of others. Most of us would much rather take care of our little ones ourselves, keeping them safe and secure and happy in our presence.When that's not possible, we thank heaven for a place like Jolly Tots Too. Kelly runs a tight ship and this place is amazing! Our daughter has been going here since 12 weeks of age and absolutely loves it. The power has been out this week and despite fun times with Mom and Dad, she's been hanging her head sadly, asking "I go school today? I go school today?" and talking about how much she misses her friends.As the other reviewers have stated, she's happy every day when I pick her up. She runs to me smiling at pick-up time and when I ask if she had a good day, she says "yes! I so happy!" She has also learned a TON here - stuff I know we never taught her. She's developmentally off the charts and I know the teachers at JTT have helped with that.Thanks, Kelly and staff at Jolly Tots Too for giving us parents a wonderful, fun, educational "home away from home" for our kids while we have to work.
Jul 22, 2010
Offers great educational opportunities
It's tough to pick a daycare but coming here was a pretty easy decision. The place is stimulating for our two kids, is safe, and we have no concerns with coming here. The older kids have some great educational opportunities, including Spanish and sign language, among others. The staff, including teachers, are great. They care about the kids - they kids all are in great moods going home after a good day. We consider ourselves lucky to have found a good place for our kids.
Nov 29, 2008
The owner and managers are very accommodating
It's a rare occasion when you discover a business whose name actually fulfills its mission in real life. We've discovered this refreshing truth over the last few months at Jolly Tots Too. Everyday when we pick up our baby, he appears to be a real "Jolly Tot". That is the result we expect from a great childcare facility. It's definitely not easy choosing a daycare for the most precious gift in your life. There's a lot of homework involved from all the research to the in-person interviews to the referrals. With so many to choose from, we only hoped that one would stand out from the crowd to make it easy for us to decide. That one standout was Jolly Tots Too. We really like the staff. The owner and managers are very accommodating. Our caregivers seem to really enjoy what they do and they especially enjoy our baby. That always helps! The facility is conveniently located right off of North Hamilton Road and Rt 161. It is only a few years old. Even more importantly, it's very clean and orderly from top to bottom. This is something lacking in a lot of the day cares that we visited. Finally, it's very safe and secure. The staff really knows what they're doing and the building is very sound. If you want your little one to be "jolly" while away from you, then Jolly Tots Too is the place for you!
Real Parents, Real Preschool Testimonials!
Read real parent testimonials about our preschool in Gahanna, Ohio!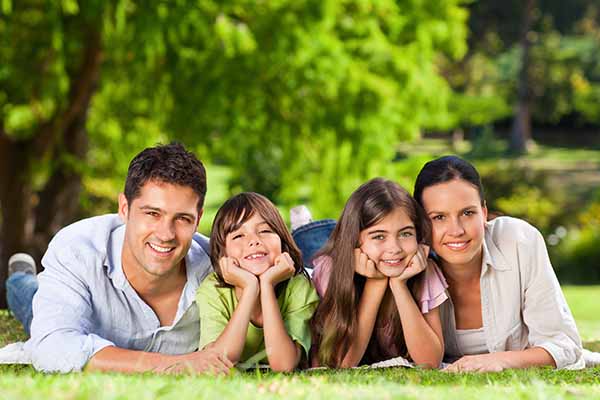 Real Gahanna Ohio preschool reviews by real parents at Jolly Tots Too!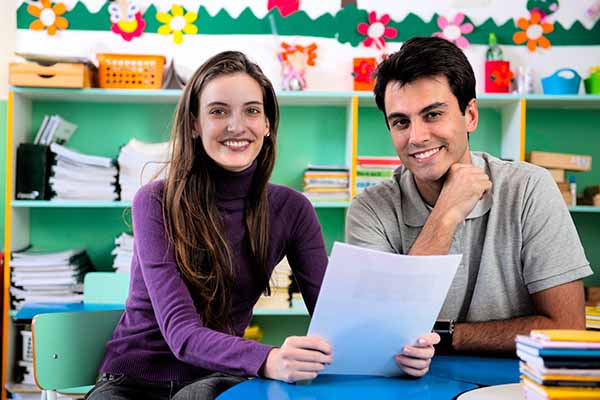 Our Gahanna Ohio preschool reviews can be seen all over the web and social media!
Get Directions
Get directions to our Gahanna, Ohio preschool!