Jolly Tots Too! A Preschool Early Education Experience for your Children!
Preschool is usually the first step The preschooler is embarking on the age of discovery, inventiveness, curiosity, and development of behavior patterns. At this time, children are rapidly developing skills such as exploration of language and reason, and comprehension of symbols. Gentle guidance, structure, and encouragement assist them in accomplishing these tasks.
Skip to a Section: The Pond – The Wilderness – Parent Testimonials
What is the purpose of Preschool?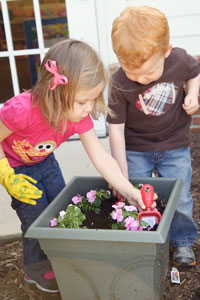 Preschool programs provide early childhood education and care for children. Our preschool teachers are trained in order to help children develop a range of skills that make them ready to learn when they start school. "Children need to develop a healthy and strong brain architecture. The experiences kids have in the early years have profound effects on their futures." – Todd Grindal, education expert at the Harvard Graduate School of Education. Therefore, the purpose of preschool is to provide children with:
Social skills: allowing children to empathize and interact successfully with other children, as well as skills to help them relate easily to adults.
Language skills: children are given the chance to learn adequate language skills in order to benefit from experiences facilitating their cognitive, educational and social development.
Executive function skills: we teach children how to hold and manipulate information in the brain, planning, problem-solving, and creativity.
Emotional self-regulation skills: children can learn to adapt to behaviors depending on the situation, therefore controlling impulses and to shift attention.
Self-regulation in learning skills: the ability to postpone immediate satisfaction to attain long-term goals, sustain attention, be persistent, and remain concentrated.
What is the Difference Between Daycare and Preschool?
Jolly Tots Too is both a Daycare Center and a Preschool. Daycare is generally an option for working parents who need their children to be taken care of during the day. Jolly Tots Too accepts babies as well as toddlers and offer full-time, full-year programs. As a Preschool, we offer early-childhood educational classes for three and four year olds. As a Daycare center and preschool, we have experienced and well trained teachers. Therefore, we offer stimulating activities allow children to learn and grow.
The Pond – Preschool Classroom
The Pond is a classroom for Preschoolers 3 Years to 4 Years
Our Goals for Preschoolers in the Pond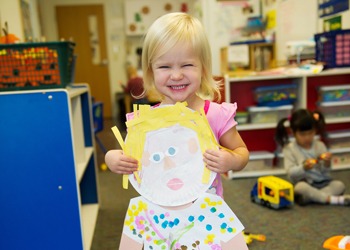 As your child progresses and begins attaining the skill of independence, we also provide, introduce and help them explore other developmental areas. These include gross motor skills, intellectual, social, emotional, language, listening, reading readiness, safety, art, music, math, science, health, and special languages. Spanish is introduced in this class. As we help your child in these areas, we also encourage parents to help him/her at home.
The Pond Preschool Atmosphere
We welcome to 3s and 4s. We are excited to have the opportunity to make this a fun and educational time for your child. During this stage of development, we will help your child expand his/ her curiosity, become more self-sufficient and independent. Through a playful environment, your child will progress academically, emotionally and socially. Visit The Pond >> and find out more about our preschool program.
The Wilderness – Preschool Classroom
The Wilderness is a classroom for Preschoolers ages 3.5 Years to 4.5 Years old.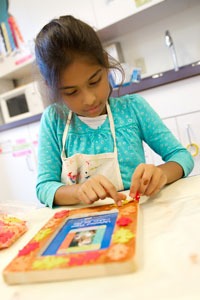 Preschool Care in The Wilderness
Goals for Our Preschoolers in the Wilderness is to prepare children for Pre-K and Kindergarten.
What is our Preschool Environment like?
Our classroom environment includes many learning centers that are tailored to the curriculum topics including but not limited to; math, science, music, language arts, multicultural, writing, and many other educational opportunities. The classroom follows a weekly lesson plan with a designated theme and has a weekly letter of the week which includes writing the letter, practicing its sound, identifying words that begin with the letter, and bringing an item from home on share day (Fridays) that represent that letter.
Our Preschool has an On Site Nurse
A Nurse assists the Administrator and Office Staff with medication administration, assessment, evaluation and attention to injuries, behavior modification and education sessions with children, and general management of the day-to-day operations. The nurse is on site during the major hours of operation.
The Jolly Tots Too Preschool Philosophy
Our preschool program combines early life-style and health and wellness education programs. We provide a comprehensive, educational, learning-center curriculum and directed toward the individual needs of each child. As a result, our goal is to promote the optimal level of development. Jolly Tots Too is dedicated to providing each child with the best possible foundation for successfully accomplishing the growth and developmental milestones. If you plan on enrolling your children in Preschool, then call Jolly Tots Too and schedule a tour: (614) 471-0688
Testimonials from our Parents from Columbus, Gahanna and New Albany
Read all of our reviews and testimonials >>
Preschool Columbus Ohio, Gahanna Ohio, New Albany Ohio
Average rating: 5 reviews
Aug 22, 2016
Highly recommended to any parents!
Highly recommend this place to any parents. Our kids love it here & so do we. We love parents night out...Thank you Jolly Tots & all the hard working staff. You guys are the absolute best..!
May 18, 2016
Granddaughter loves her Gahanna preschool!
My granddaughter goes to Jolly Tots and she has learned so much. She loves her teacher's and all her friends.
Feb 21, 2016
Gahanna Preschool helps my son excel!
Our son excels here, and we love that there is an onsite nurse!
Nov 17, 2015
I live in New Albany but the teachers here at Jolly Tots are like Family!
The JTT teachers have become part of our family! We instill a lot of trust in these teachers and they continue to amaze us!! They are hard working and clearly love what they do. Our boys LOVE JTT which makes it so much easier to focus at work every day knowing they're in good hands. The on-site nurse is a huge bonus!!
Dec 3, 2014
Our kiddos have been here since they were babies! Best preschool in Columbus!
Both of our lil' kiddos goes here from day one since they were babies. All the staff here is amazing! I was debating if we should put my son in public kindergarten or here...We decided to have him stay....by far it was the best decision we've ever made. Ms. Amy who's been teaching over 20yrs here is incredible teacher. I see how she teaches them. Bottom line I "HIGHLY RECOMMEND"to any parents that wants the best for their kids to come here. Talk to Kelly the owner she is very organized & informative. The only thing I wish is that if Jolly Tots would go all the way up to High School I would be willing to pay private for both of my kiddos but unfortunately they only go up to kindergarten.....Best of luck where ever you go.!